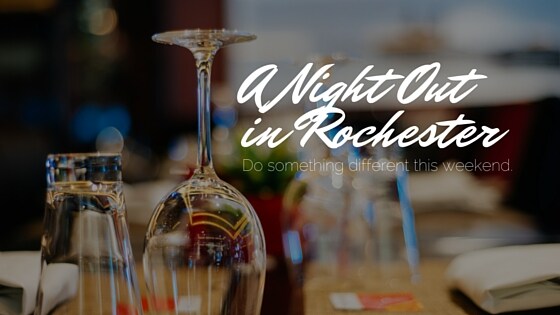 Spring may be just around the corner, but it's hard to ignore the winter blues here in Minnesota. If the weather has you down, gather up some friends and head out to one of these nearby spots for some much-needed fun! If you're a parent, call the babysitter and head out for a special night away. If you don't have kids to worry about, think of these things as your weekend plans for the next month.
Escape Challenge
Have you heard of escape rooms? They're gaining popularity all over the country as a fun way to see just what you and your group of friends are capable of. It can also be used as a team-building exercise (so feel free to suggest this to your boss as a company outing). When your team enters the room, you have 60 minutes to find clues and solve puzzles to lead you to your escape.
This is a great outing for friends who want to get their adrenaline pumping in a big way in a pretty small amount of time. You're sure to come out of the room more bonded than ever. If you are so skilled as to be part of the 20% of groups who escape before time is up, you can enjoy the added perk of serious bragging rights.
20 6th Street NW
Rochester MN 55901
(507) 272-3041
Canvas & Chardonnay
For another fun girls' night (or date night!), head over to Canvas & Chardonnay. You'll be shown, step-by-step, how to paint the featured painting of the evening while enjoying a glass of wine (or beer or a selection of non-alcoholic beverages). You don't have to be an artist and the finished product doesn't have to be perfect! Best of all, you get to take your creation home with you at the end of the night. How often can you say that your night out ended with some new decor?
If you've always wanted to try your hand at painting, this is definitely the outing for you! Round up a few friends, go to the website (or give them a call), choose your evening and you're good to go! You can also sign up you and your husband/boyfriend for a fun date night – he will probably love it more than you'd think!
317 S Broadway
Rochester MN 55904
(507) 258-4268
Goonie's Comedy Club
For something a little different, check out Goonie's Comedy Club. This comedy club features comics every weekend (Fri-Sat) as well as a FREE open mic night on Thursdays at 7:30 pm. If you purchase tickets online ahead of time, the cost per ticket is $15 (at the door is $20). Plus, unlike many comedy clubs, there isn't a two-drink minimum – all you have to do is show up and laugh, food and drinks optional.
If you've been looking for a way to quench a comedic thirst lately, Goonie's is the answer. Who knows? Maybe you'll discover that you have a knack for stand-up and try out a couple of open mic nights of your own. If nothing else, maybe you'll add a fun new event option to your social calendar.
7 2nd Street SW
Rochester MN 55902
(507) 288-8130
Visit the website